If you've ever dreamt of tangling with a huge pike or lake trout, our expert guides will show you the ropes and have you reeling in a monster fish in no time.
Start your day with a thermos filled with freshly brewed coffee, before heading to the dock and boarding one of our custom-built Lund Pro-V watercrafts. We like to hit the water by 9 a.m. and be back on land by 6 p.m., with a shore lunch offered in between. While you're out fishing, you will have access to Northern Pike, Lake Trout, Walleye, and Arctic Grayling.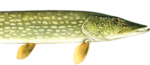 Conventional Fishing
Maybe you've never fished before and you'd like to learn about spin-cast or bait-cast techniques and the artificial lures they utilize. Or as a seasoned angler you are looking to up your game a bit. Either way, our guides are skilled in teaching the new or recently initiated as you enter the sport or in assisting long time participants as you hone and further develop your skills.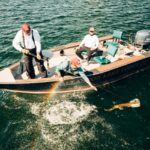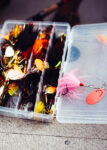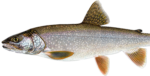 Orvis Endorsed Fly Fishing
If you'd like to learn a new fishing technique or add knowledge to your current skills, fly fishing takes you another step down that path. We're pleased to partner with Orvis, one of the finest outdoor companies in the business. At this time, we're one of few Canadian lodges that meet the Orvis Endorsed lodge program criteria. This partnership is a reflection of our outstanding fishing traditions and high standard of service both on the lake and on shore.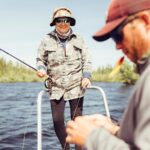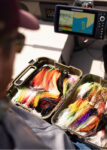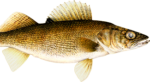 Fishing Trips with a Bird's-Eye View
Grab a seat on one of our two 9-passenger de Havilland Turbo Otter float planes for an iconic Canadian fishing experience (if you look close, you may even spot a moose). Our fly out trips take you to even more secluded locations on and around Wollaston Lake, where you'll continue to cast for trophy Northern Pike, Walleye, and Lake Trout and can complete your Canadian Grand Slam by landing an Arctic Grayling. Fly outs can be scheduled ahead of time or on site.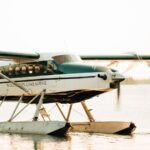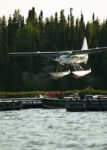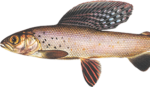 Top of the Line Guides
Considered to be some of the best in the business, our friendly and professional guides will ensure you have a safe and successful experience on the water. Your guide will help you land a fish of a lifetime and release it back into the lake, after snapping proof of you and your catch for the folks back home, of course. If you're a beginner, don't worry! Our guides have experience teaching all levels and know a variety of techniques.
Meet Our Guides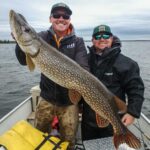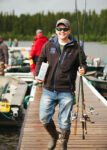 Trip Details
Timeline
In order to make your trip as enjoyable as possible, we don't adhere to a strict trip itinerary. Typically, guests are on the boat by 9 a.m. and back at the dock by 6 p.m. However, we can work with you to leave earlier or come back later, adapting the trip to your needs.
Gear
Fishing gear is available for rent. We provide Shimano rods and reels, available in both spin and baitcast. Your guide will also provide tackle (you will be required to replace any lost lures) and you are welcome to bring your own. Our program also includes the complimentary use of an Orvis fly rod, and we have a fly-tying desk where you can create a fly of your own design at no extra cost.
Catch & Release Guidelines
For almost 30 years, we've been practicing a catch and release program. Barbless hooks are mandatory for fishing on Wollaston Lake. All fish will be released back, with the exception of those caught specifically for shore lunch.
Shore Lunch
The fishing on Wollaston is amazing and might be rivaled only by our shore lunches. A highlight for many guests, this is where you can rest, recharge, and swap stories with the other folks about the one that got away. Your guide will prepare a feast on the beach, where preparations include fried fish, stir fry, chowder, or anything else you might desire. Our classic campfire shore lunch takes about an hour, but for guests who are eager to get back to business, we can arrange for a personalized alternative.
Fishing License
Guests are responsible for purchasing a Saskatchewan Fishing License, and we highly encourage you to sort out your license ahead of time. Permits are available for purchase online.
Start Planning
Feel the strike! Learn more about the trip of a lifetime.