Originally founded in the early '60s, Wollaston Lake Lodge was a pioneer in fishing up in Canada's Great North.
The lodge changed ownership in 1975 and again in 2000, when Mike and Judy became owners. Mike, a longtime guest at Wollaston, understood the potential of this place and had a deep connection to the big experiences here. He wanted to create a luxury lodge where others could make memories and feel connected to the place too. Once you step foot onto the property, you will be impressed by what they've achieved. The lodge's recent designation as an Orvis Endorsed Lodge of the Year is further proof of the amazing work Mike, Judy, and the whole Wollaston family do up here.
Dream Lodge, Dream Fishing, Dream Destination
When Mike and Judy took over Wollaston Lake Lodge, they did so with the goal of building their dream fishing lodge. One that would do service to the beautiful surroundings and top-tier fishing in Northern Saskatchewan—a dream lodge, on a dream lake that would be home to the finest fishing experience in North America.
Why?
The goal has always been to give our guests cherished memories that will last a lifetime, and that's why our guides are constantly learning, improving their own skills so that they can pass more knowledge on to guests. That's why our staff to guest ratio is better than one-to-one. That's why our fleet of Lund Pro-V boats were custom-designed for this lake. That's why our majestic timber-frame main lodge and cabins were constructed to be as luxurious and comfortable as possible. That's why over 75% of our guests are repeat customers. That's why Mike and Judy are on property all season long, greeting guests by name. And that's why, at Wollaston, we guarantee an unmatched fishing experience.
Living Our Values
We're proud of our association with Costa Del Mar's Kick Plastic Campaign, which aims to reduce the use of disposable plastic in order to protect our pristine environment. Joining industry partners like Orvis, we have made it our mission to ban the use of plastic bottles at our lodge, turning instead to reusable bottles, and continue to promote an ethos of sustainability on the land and on the water.
Learn More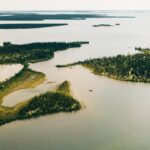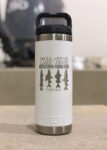 Get to Know Our Team
Knowledgeable guides, pilots, office and hospitality staff, and mechanics—the Wollaston team is here to make your experience unforgettable.