For the first leg of your trip to Wollaston Lake Lodge, you'll need to make your way to the Winnipeg James Armstrong Richardson International Airport (YWG).
From there, our expeditors will walk you through the process of getting to the lodge, and before you know it you'll be here.
Arrival at the Airport
When you land in Winnipeg, you'll be greeted by Dan or his team. They will escort you to your hotel for the night—the Courtyard by Marriott across from the airport. We advise you to bring an overnight bag for your stay in Winnipeg because we will transport the rest of your gear to the charter plane to make the flight out easier the next morning.
For guests who choose to drive to Winnipeg, arrive at the hotel no later than 10 p.m. Please let us know if you plan to drive at the time of booking so that we can arrange parking availability at the hotel.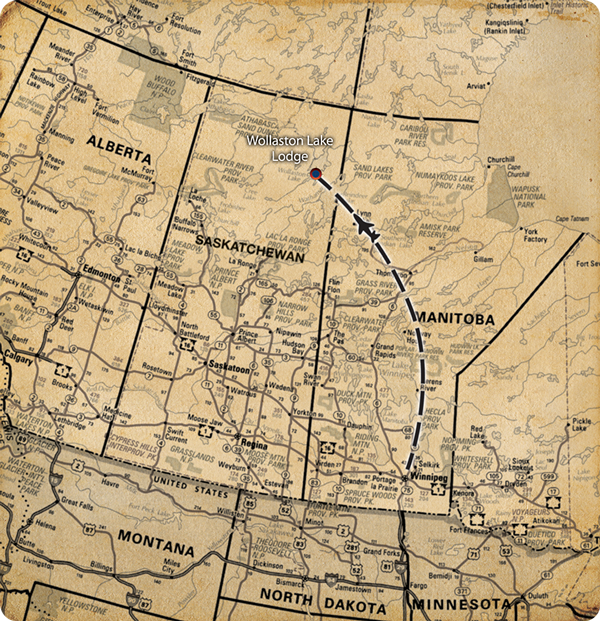 The Chartered Flight
Expect an early morning! The next day, after a light breakfast and a cup of coffee, we will guide you to our chartered bus and right to the door of our charter plane where you can expect to be in the air at around 6:30 a.m. From there to the airstrip in Points North Landing, SK, is about a two-hour flight (the perfect time to grab some Zs before a day of fishing!).
Points North Landing
Once you land, a bus will transport you from the airstrip to the lodge (a 45-minute ride).
Wollaston Lake Lodge
You have arrived! A buffet breakfast will be available in the lodge upon your arrival and your guide will meet you either in the lodge or at your cabin to discuss your fishing plans.
After that, all that's left to do is get out on the water and fish.
Plan Your Trip
Feel the strike! Learn more about the trip of a lifetime.